Carl's Magicka Strategy Guide and Walkthrough
Chapter Tips, Spell Help, and Information for Rocking your Wizard
Magicka Game Overview
Magicka is a unique Action Role Playing Game from Arrowhead Game Studios. Like all other Isometric games of this type, some people feel compelled to compare it to Diablo. The similarities end at the viewing angle. Magicka is not your typical Loot and Hack'n'Slash RPG. In this game, you control a Wizard and can choose no other class.
The only gear you're going to find to equip your Wizard are Weapons and Staves. You can only have one of each, and must choose if you want the new item when you come across it. Weapons and Staves can have special attributes, such as a Hammer that casts lightning upon striking, or a Staff that can cause all enemies to run in fear.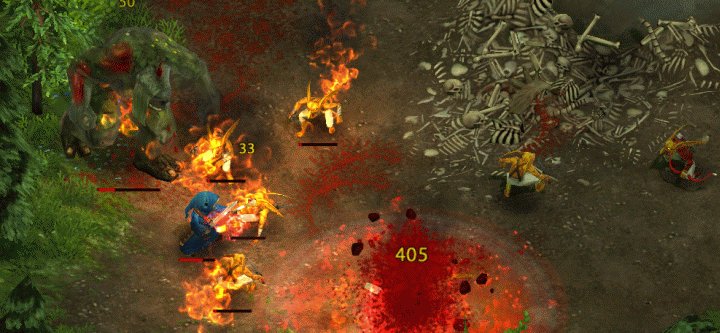 The main idea of Magicka is to cast spells, and the developer has accomplished something unique in this regard. You don't go about buying spells in a store, or leveling and unlocking them. Instead, you use combinations of elemental runes to accomplish the task. There are "Magicka", named spells you'll find throughout the campaign, but most spells you cast are custom-made.
Magicka doesn't take itself seriously at all. The very first words of the campaign are a tribute to Diablo, there's an M60, one of the Achievements is to find all the dead Moose in the game, and Star Wars fans should recognize the reference in the titles of the first chapters.
There are plenty of reasons to play Magicka to the end multiple times. The game features co-op for up to four players, plenty of Achievements to unlock, and secrets to discover in each Chapter. Try different strategies and use different weapons as you go through the game. Wizards on their second playthrough will find that some things that were inaccessible before can now be acquired with ease. Even if none of that turns you on, the cheap price tag can't be beat, and it's available as a digital download from Steam.
Magicka Guide
Now we'll move on to the good stuff. My guide will provide information on all areas of the Magicka campaign. Learn of the Weapons and Staves you can find, Magicks that can be learned, and how to combine elements to make powerful spells. Each chapter includes secret locations so you can track down every moose and simultaneously earn the Sherlock Holmes Achievement. Mission walkthroughs contain tips on what spells to use and in-depth Boss strategies.
Spells Guide - Element List and Combinations
This guide will teach you about creating your own Spells in Magicka. There are over 1,000 possible spell combos. What I provide here is information on the various components and how they will affect a given spell when used together. I also give you some sample spells to help you through the campaign.
Magicks Guide
A Guide to all the special spells your Wizard can learn. I list what chapters you'll find them in, and provide information on how they can be used strategically. All known spells in the game are included.
Staves and Weapons
These two Guides provide my personal insights into each of the weapons and staves in Magicka. As with spells, I'll tell you which chapter they can be found in. You can then jump to the right walkthrough page to get the details on where you'll find it.
Magicka Walkthrough
This walkthrough is in progress. I'll try to add at least one chapter per day and expect to be done by 4/23/11. Each help page will have all of the Moose you can find, and any Weapon, Staff, or Spell secret locations. For now, the following chapters have information:
Chapter One: The Fancy Menace
Chapter Two: Attack of the Goblins
Chapter Three: Revenge of the Tribes
Chapter Four: A New Hope
Chapter Five: Havindr Strikes Back
Chapter Six: Return of the Wizard
Chapter Seven: Return to Castle Aldrheim
Chapter Eight: The Mine Sweepers
Chapter Nine: Symphony of the Twilight
Chapter Ten: A Grim Tango
Chapter Eleven: Raiders of the Lost Ruins
Chapter Twelve: At the Mountains of Madness (final battle)