Stardew Valley: The Cave
Mushrooms vs Fruit Bats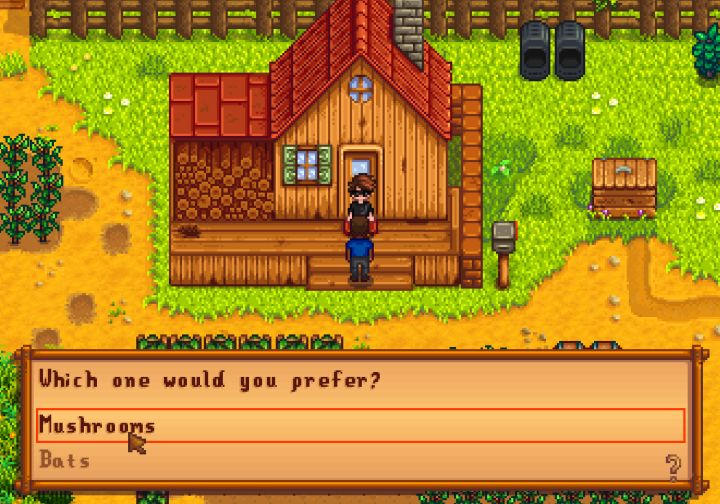 When you've made 25,000G in Stardew Valley, a man named Demitrius will show up at your farm and offer to convert your cave into something useful. You must choose between fruit bats or mushrooms for the cave, and it's a permanent choice. Neither makes a huge impact, but one is arguably more useful than the other.
Fruit Bats
Stocking the cave with Fruit Bats results in items like cherries, peaches, apples, and berries being dropped by the bats in the cave every once in a while. Every one of these items is easy to get, but they are useful for giving gifts to villagers. They do not play into any major crafting recipes, though you can make wine with them. These are handy for completing bundles, but you can eventually forage and grow fruit trees to get all of them. In fact, they're some of the easiest bundles so long as you forage each season.
The fruit are randomly generated each day. Either nothing, or fruit spawns. You never know what you'll get but should probably check every couple days.
Mushrooms
Stocking the Cave with Mushrooms will put six planters in the cave that reliably generate 6 mushrooms every other day. You have a good chance of getting the rarer types, such as those with purple caps and morels. All the main types of mushrooms are used in the life elixir, which is unlocked with the Combat skill (at level 2) and one of the best healing items in the game as it restores health to full. Life elixirs take one red, purple, morel, and canterelle mushroom. Most of these are found reliably deep in the mines or near the wizard's tower in the forest. They are simply not as accessible as the fruit.
The Pick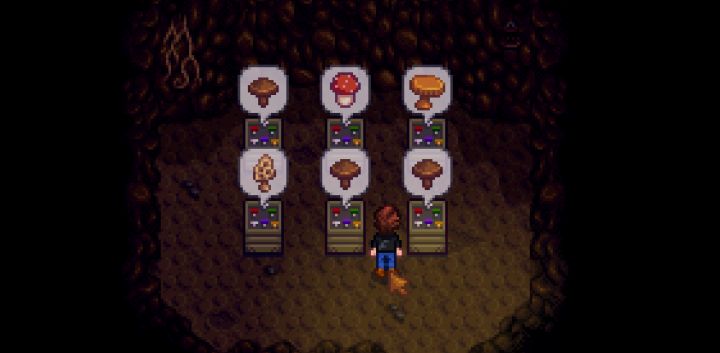 Personally, I go with the mushrooms. The reasoning for this is that I already have great access to all the items offered by fruit bats. I can make trees, as well as wild seeds with the seed maker. The mushrooms give me a chance to get those at home, here and there, and stock them up for life elixirs and other cooking (such as stir fry).
The only reason to pick the fruit is if you want it so that you can gift them, since they're technically free and almost always liked by the residents of Stardew Valley. Overall the mushrooms are more useful, at least in my eyes. You know the pros and cons, so make your pick!