Stardew Valley: Combat Guide
Combat Skill Unlocks and Tips for Fighting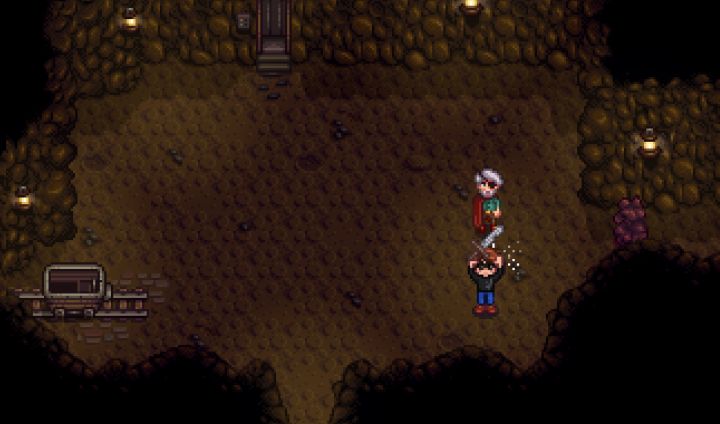 Stardew Valley's Combat skill indicates your character's proficiency at fighting monsters found in the mines and Skull Cavern. Monsters are found elsewhere, but not in such large concentrations as in those two areas. Each Combat skill level you gain unlocks new crafting recipes and improves your prowess in combat by just a little.
Combat Experience and Leveling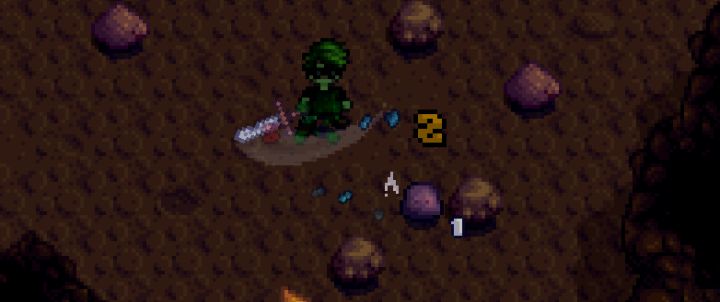 The Combat skill is leveled by killing monsters through any means - from sword, to bomb or slingshot. The amount of experience gained is based upon the difficulty of the monster, in general. Further in the mines and inside the Skull Cavern, harder monsters will appear which are worth much more experience.
Each level of the combat skill increases your character's maximum health by +5, which doesn't seem like much but will result in you having 50% more HP by the time you've reached level 10. There is no weapon proficiency, as swinging a sword, mace, etc. does not take any energy. This is to avoid you collapsing while fighting, I suppose.
Combat Skill Unlocks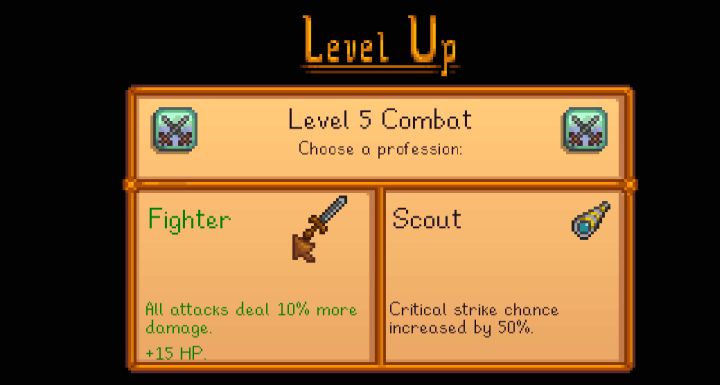 Level 1 - Sturdy Ring crafting recipe - halves the duration of negative status effects.
Level 2 - Life Elixir crafting recipe - fully restores health and provides +200 energy.
Level 3 - Roots platter cooking recipe - Provides a +3 combat bonus (which should increase max hp by +15 but doesn't seem to work). Otherwise gives 125 energy and 50 health. A decent meal, regardless.
Level 4 - Warrior Ring crafting recipe. Provides a chance you receive the warrior energy buff when you make a kill, increasing damage by 10 for 5 seconds.
Level 5 - Choose between the Fighter and Scout Professions. Fighter increases damage by 10% more and raises max hp by +15, Scout improves the critical hit chance by 50% over base.
Level 6 - Slime Egg Press crafting recipe. Turns 100 slime into a slime egg for the slime hutch. Additionally, you can make Oil of Garlic, which requires 10 garlic and 1 oil, heals hp and energy, and causes weaker monsters to ignore you for 10 minutes.
Level 7 - Ring of Yoba crafting recipe. The ring of yoba is quite powerful and offers a chance of increasing the invincibility period for 5 seconds after you're struck in combat.
Level 8 - Slime incubator crafting recipe, which will let you take advantage of the eggs provided by the slime egg press. Additionally, explosive ammo can be crafted for the slingshot, very handy for the Skull Cavern's Mummies, but arguably expensive to craft.
Level 9 - Lets you craft the Iridium Band, which increases damage 10%, glows, and has a magnetism effect. This all-in-one ring is a great solution. These effects can stack, so it is likely many players will use two as part of their combat equipment.
Level 10 - Players who chose Fighter at level 5 can choose Brute (Increases damage by 15%) or Defender (+25 Max HP). Players who chose Scout can pick Acrobat (half cooldown on special moves) or Desperado (Deadly critical hits). Desperado may be an interesting choice but acrobat is not very useful for now, as most special moves are pointless to use in combat. Hopefully with 1.1 some choices will be improved.
Fighting Monsters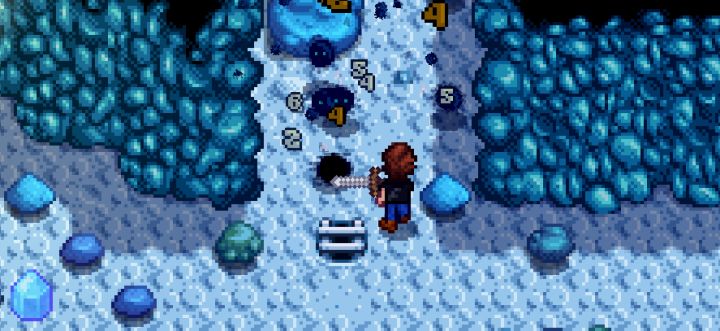 When you go to the mines, you should get your first weapon and be able to slay slimes and bats without much danger. Enemies like slimes are best fought by pinning them against the wall, where they can be stunlocked. When that's not possible, you can simply slash, step, slash and prevent them using their special jump attack. Many monsters are vulnerable to your knockback, so combat is quite simple and a small roadblock to finding ore in the mines. You will want to level combat but it should come fairly naturally.
Bringing healing items to combat is essential. A mine run can be cut short very early if you have nothing with which to heal your character. Cooked foods are generally better, though some foods like Cauliflower provide a bit better healing.
Equipping Gear, Immunity, and Defense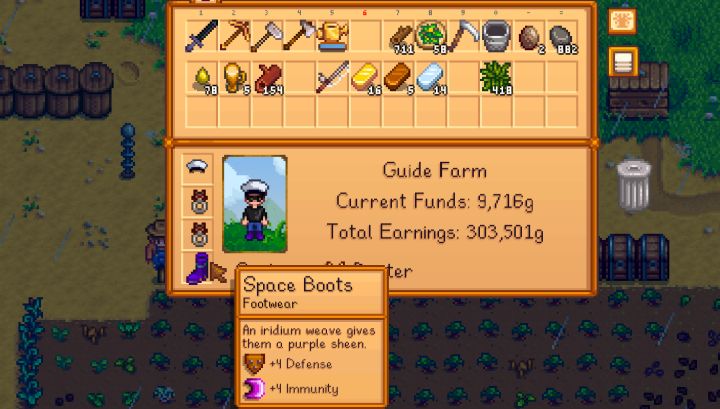 As you discover new items, you'll have the chance to put them on your character. Look to the bottom left of the inventory screen to drag up to two rings and one pair of boots into the slots and equip them on your character.
You'll find a variety of effects on rings, but boots primarily focus on raising Defense and Immunity, the former can be found on some weapons. Defense reduces the damage your character takes in combat (I think by a flat amount). Immunity reduces the likelihood your character will be hit with negative status effects, such as the slimes' slowing ability.
Weapons: Getting New Gear

As you progress through the mine, you may find that some monsters drop weapons that are better than what you have. However, you'll probably find better items at the Adventurer's Guild. The amount of weapons and gear offered by them increases as you delve further into the mines. Notable items are the Silver Saber (750g, reached level 20), Templar's Blade (4,000G, level 55), Steel Falchion (9,000G, level 90), and Lava Katana (25,000G, reached the bottom of the mines). The Lava Katana will be immensely helpful in the Skull Cavern, so it's suggested you eventually save up for it unless you get a very lucky Prismatic Shard Drop
Galaxy Sword: The Best Weapon in Stardew Valley
As of 1.07 the best weapon in Stardew Valley is the Galaxy Sword. You can get this weapon by finding a Prismatic Shard. These shards drop from Iridium rocks in the mines, as well as the monsters you'll fight there. The drop chance is very low. Going on lucky days and using foods that boost luck can help (see the Skull Cavern page for a list of foods. Once you have the shard, you use it at the center of 3 pillars in Calico Desert.
Homegrown Healing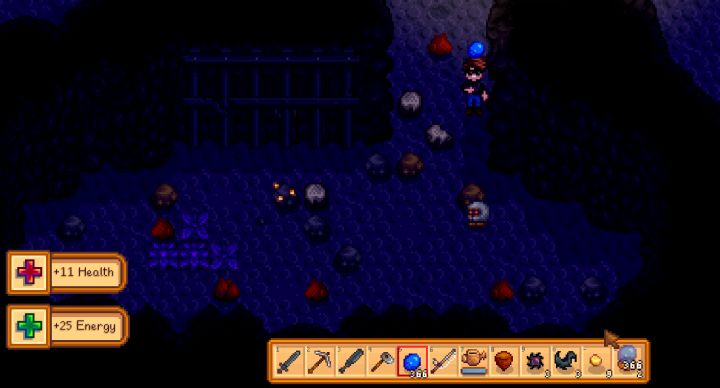 Cooking foods can be a rather involved process. Salads are the best item to buy from the tavern for healing. As far as growing crops, eating multiple fruits which are worth only 10 health each is rather annoying. Good for energy, sure, but not so good for the life meter. I went through each season's fruits and veggies to see those which have the best healing - bear in mind that gold-star quality will result in nearly doubled healing: