Stardew Valley Trees
Planting Maple, Oak, Pine and Using Tappers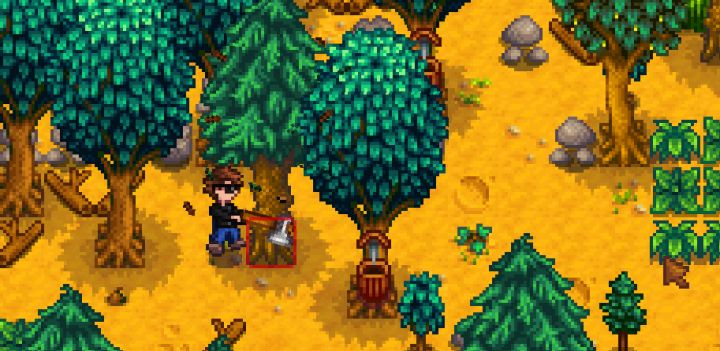 The three main types of tree in Stardew Valley each have a purpose, though they can be hard to tell apart. As you may want to setup tappers to harvest pine tar, oak resins, or maple syrup, it can be handy to know what type of trees you have on the farm. I'll also cover planting trees and how you can ensure they'll grow to maturity at the fastest pace.
Woodcutting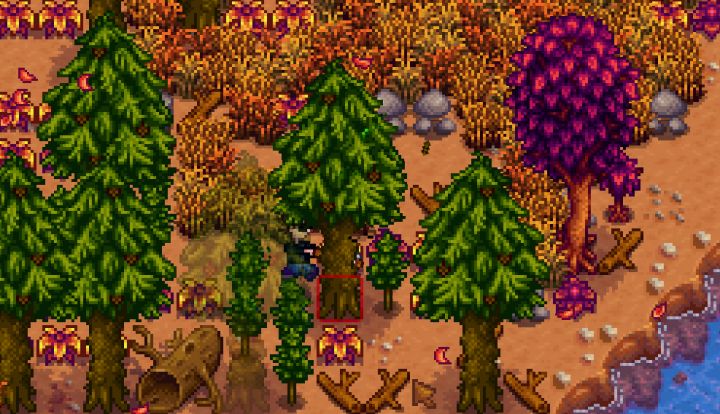 The three main types of tree will begin dropping seeds at level 1 Foraging. This means you can plant your own trees and harvest them for lumber that is used for crafting objects and farm expansion. It takes about 15 hits to completely remove trees at first, but with a better axe you can get it under half a dozen swings. With extra foraging levels, it will make removing a tree and collecting wood take less than a quarter of the initial energy cost.
Planting and Growing Trees

Normal trees must be placed every other square, in a pattern like TXTXTX which must also be repeated on a vertical level. They grow all year round and only take at most 12 days to mature, so long as the one empty space is cleared once it's become a sapling. In fact, you can ensure trees on your farm will grow by clearing other trees and debris around them with your farm tools, stopping the saplings from competing with one another.
Planting and Growing Fruit Trees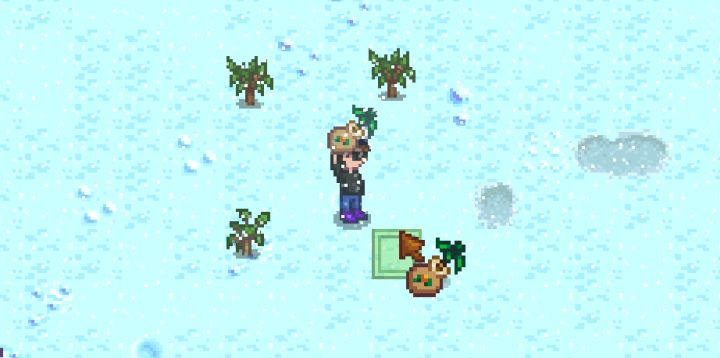 Stardew Valley lets you plant apple and other types of fruit trees which grow all year round but only put out produce one season per year. This means 28 harvests per year per tree. Fruit Trees require 2 spares in all directions to be clear, so they must be planted with 2 empty squares between them (TXXTXXTXXT) with the same amount of space on a horizontal level. The game won't normally let you plant them too close together. Fruit trees give one fruit each day. Large orchards are expensive to set up due to the saplings costing thousands each but are certainly a nice thing to have around because of their low maintenance. The cost means it takes quite some time for them to pay off, regardless of when they're planted. Fruit trees start producing gold star produce as they age and fertilizer is not needed, nor tilling of the ground. An old orchard can be quite a money-maker but will take up a lot of space!
Tappers for Oak Resin, Pine Tar, and Maple Syrup
Oak, Maple, and Pine Trees can all be fitted with tappers to provide you crafting resources and cooking ingredients. Craft a tapper (or several of them) from the menu (Esc > Crafting tab) to use tappers. Telling the trees apart is essential to getting the items you need. Simply hold the tapper and walk up to the tree and place it on the square occupied by the base of the tree. The schedule for getting resin, syrup, and pine tar all differ but you can get more details below. Simply walking up to the tree and harvesting it like you would any crop will give you the loot. Hitting the tapper one time with an axe will remove it and return it to your inventory.
Maple Trees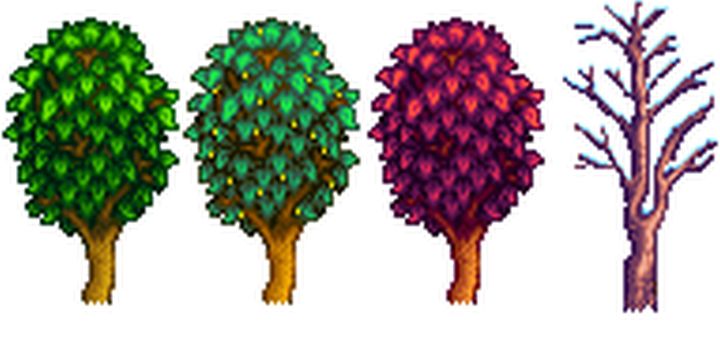 Chop Maple trees for wood, sap, and maple seeds. They produce Maple Syrup when outfitted with a tapper. They will then make syrup every 7-8 days, valued at 200G. You can grow more by planting maple seeds. These trees are easiest to tell apart during summer, as they have the glowing sap in their branches.
Oak Trees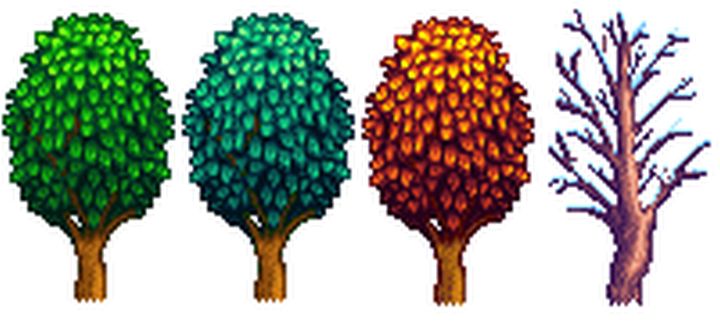 Chop Oak trees for wood, sap, and acorns. They produce Oak Resin when outfitted with a tapper. They will then make resin every 6-7 days, valued at 150G. You can grow more by planting acorns.
Pine Trees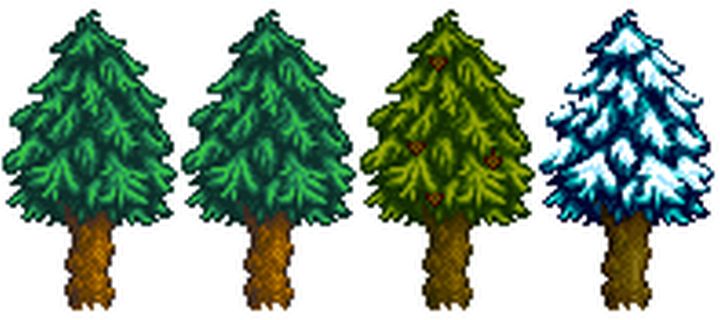 Chop Pine trees for wood, sap, and pine cones. They produce Pine Tar when outfitted with a tapper. They will then make tar every 5 days, valued at 100G. You can grow more by planting pine cones.