Stardew Valley: Winter Fishing
Where and When to Catch Fish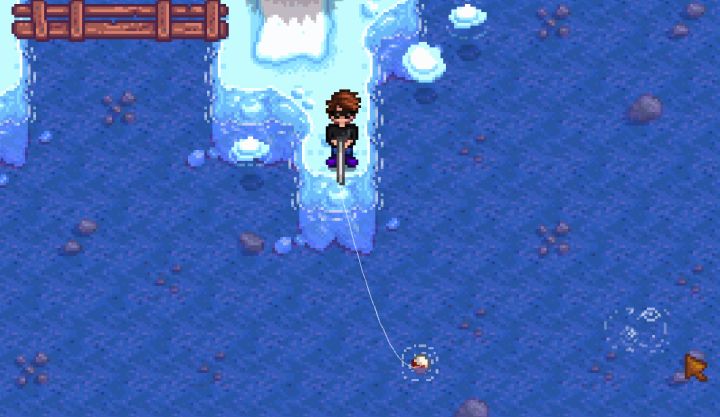 The following tables list the fish you can catch during the Winter season in Stardew Valley. I've broken them down this way to make it easier to look at the current season and what you can catch. This focuses mainly on four fishing spots, though there are a few more that contain exclusive fish.
The following data on fish times and weather should be helpful to you catching every fish and completing bundles. Note that for times, the 2nd number is the cutoff - 6AM to 7PM means that at 7:00 the fish will no longer be available. Fish that start with late times that end in the morning can be caught late at night or early morning.
Winter Fish List
Fish in River at Pelican Town
The best place to fish in Pelican Town is the bottom left corner of the area, just before the exit. There's a river there, where you can hit the deep spot south of villagers' homes.
| | | | | |
| --- | --- | --- | --- | --- |
| Tiger Trout | 150G | 6AM-7PM | Any Weather | River Fish Bundle |
| Perch | 55G | All Day | Any Weather | None |
| Pike | 100G | All Day | Any Weather | None |
| Lingcod | 120G | All Day | Any Weather | None |
| Walleye | 105G | 12PM-2AM | Snowy | Night Fishing Bundle |
| Bream | 45G | 6PM-2AM | Any Weather | Night Fishing Bundle |
Cindersap Forest River Fish
There are both a river and lake in Cindersap forest. For this fishing spot, I've focused on the river as it is the one that contains exclusive fish. The lake has fish that can be caught elsewhere and is nothing special.
| | | | | |
| --- | --- | --- | --- | --- |
| Pike | 100G | All Day | Any Weather | None |
| Lingcod | 120G | All Day | Any Weather | None |
| Tiger Trout | 150G | 6AM-7PM | Any Weather | River Fish Bundle |
| Walleye | 105G | 12PM-2AM | Snowy | Night Fishing Bundle |
| Perch | 55G | All Day | Any Weather | None |
| Chub | 50G | All Day | Any Weather | Field Research Bundle |
| Bream | 45G | 6PM-2AM | Any Weather | Night Fishing Bundle |
Fish in the Mountain Lake
| | | | | |
| --- | --- | --- | --- | --- |
| Lingcod | 120G | All Day | Any Weather | None |
| Perch | 55G | All Day | Any Weather | None |
| Walleye | 105G | 12PM-2AM | Snowy | Night Fishing Bundle |
| Sturgeon | 200G | 6AM-7PM | Any Weather | Lake Fish Bundle |
| Bullhead | 75G | All Day | Any Weather | Lake Fish Bundle |
| Chub | 50G | All Day | Any Weather | Field Research Bundle |
| Largemouth Bass | 100G | 6AM-7PM | Any Weather | Lake Fish Bundle |
Ocean Fish: The Beach
| | | | | |
| --- | --- | --- | --- | --- |
| Albacore | 75G | 7PM-10AM | Any Weather | None |
| Squid | 80G | 6PM-2AM | Any Weather | None |
| Herring | 30G | All Day | Any Weather | None |
| Halibut | 80G | 7PM-10AM | Any Weather | None |
| Red Mullet | 75G | 6AM-7PM | Any Weather | None |
| Red Snapper | 50G | 6AM-7PM | Snowy | Ocean Fish Bundle |
| Sea Cucumber | 75G | 6AM-7PM | Any Weather | None |
| Tuna | 100G | 6AM-7PM | Any Weather | Ocean Fish Bundle |
| Sardine | 40G | 6AM-7PM | Any Weather | Ocean Fish Bundle |
Further Reading on Fishing
Fishing Guide
How to Fish
Using Bait and Tackle
Spring Fish
Summer Fish
Fall Fish